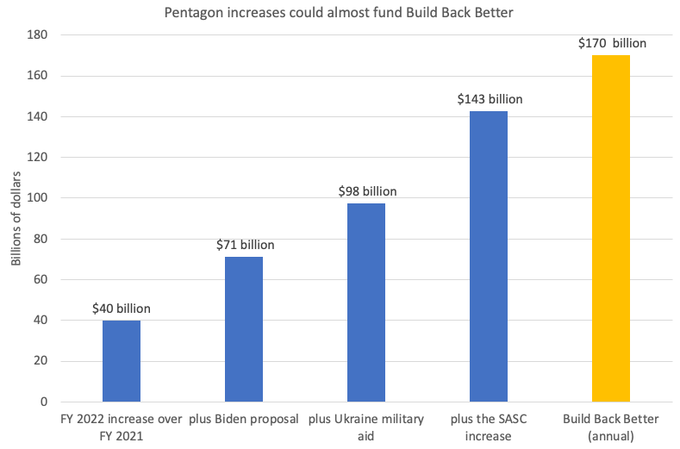 Remember Build Back Better? Way back in December, President Biden and advocates across a wide spectrum of issues fought to fund the president's signature plan, which included major new investments in clean energy, child care and preschool, health care, and financial help for struggling families. It ultimately failed due to one Senator's claimed concerns about spending and the national debt.
That was a whole six months ago. In that time, the president and Congress together have moved forward on $143 billion in increased funding for the Pentagon and war.
The annual cost of Build Back Better? That would have been $170 billion per year.
The Pentagon increases have been a joint project of Congress and the administration.
First, Congress approved a FY 2022 Pentagon budget of $782 billion, $40 billion higher than the $742 billion FY 2021 budget that was in effect in December.
Then, President Biden released his budget request, asking for $813 billion in FY 2023 for the Pentagon and war. While the president's request has no legal authority, this year it's expected that Congress will approve that much, and more. That brought the total increases in Pentagon spending to $71 billion compared to December.
In the meantime, Congress approved two separate aid packages for Ukraine to counter the Russian invasion. The first aid package included $6.5 billion in military aid, and the second included another $20 billion – bringing the total Pentagon and war increase to $98 billion since December.
More recently, in deliberations over the National Defense Authorization Act, the Senate Armed Services Committee voted to add yet another $45 billion to the Pentagon budget – bringing total increases so far to $143 billion.
For anyone keeping track, that is 83% of the annual cost of Build Back Better – in just six months.
This is despite the fact that the U.S. already has a military budget larger than the next nine countries combined (some of whom are allies), and more than twice as much as China and Russia combined. The U.S. and NATO also spend more than 17 times as much as Russia. 
The Pentagon budget is more than enough. If anything, the Russian invasion of Ukraine is proof that more military spending can't buy security.
Meanwhile, the climate crisis rages, 140 million Americans live in poverty or just above poverty, and the money for the Pentagon never seems to stop flowing.
It's not too late to turn this around. Right now, the legislated Pentagon and war budget stands at $782 billion. Congress doesn't have to approve any further increases. They don't have to meet the president's $813 billion budget request. They certainly don't have to approve the Senate's $45 billion addition, or the House Armed Services Committee's more recent $37 billion addition (an alternative to the larger Senate addition).
They could even approve a bill introduced by Representative Barbara Lee and Representative Mark Pocan to cut the Pentagon budget by $100 billion and put people over the Pentagon.
The National Defense Authorization Act is expected to receive a full vote in July. It's not too late for members of Congress to change course.
---